DIY Home Security - Fast, Easy and Affordable
You can never be too careful. It's an old, familiar expression to most of us but it is especially telling when the security of your home is at stake.
Our families are important to us and their safety is our number one priority. With the availability of DIY Home Security everyone can breathe easier, knowing their loved ones are safe and secure in their homes.
Times Have Changed
Traditionally, home security has been a right of the privileged. Security systems were typically installed for only the rich and famous. Big iron gates and walled compounds with strategically located video cameras greeted the stranger with less than welcome arms.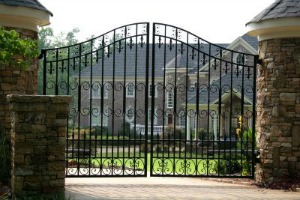 If that wasn't enough of a deterrent the stranger still needed to answer to an intercom system that was carefully assessing the stranger's threat risk. A pretty impressive security system given the person wasn't even past the front gate.
But now with rapidly changing technologies home security has become a commodity we all can use and afford.
DIY home security can be anything from installing the proper deadbolt on your front door to a set of motion lights to scare off burglars in the middle of the night.
Whether your house is big or small there are products and systems designed to protect you and your family from unwanted intruders.
Where to Begin?
DIY home security is more than just a product list. It's the best security advice available on how to manage your whole house and property with safety in mind.
Eliminate shrub or bushes around access points on a house like doors and windows. Shrubs and bushes may look good and provide privacy but they also give burglars a place to hide.
If you're thinking of enlisting the services of a dog to watch over you there is a long list of suitable breeds out there capable of guarding your home from unwelcome house guests.
There's nothing more discouraging for a break and enter thief than a loud bark or a bone chilling growl.
If you don't have time to walk a dog you can purchase a simulated barking dog alarm system that offers the same protection minus, of course, the companionship.
Lock Your Doors!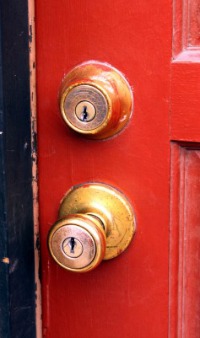 But one thing dogs can't do is lock your doors properly. The best way to ensure your door is properly secured is to make sure you go with a double lock system.
Install a deadbolt and a knob lock. A deadbolt should be the primary lock on your door with the knob lock located beneath it. The best deadbolt to use is one with a one inch throw bolt.
Keep in mind, though, that locks are only as good as the door that holds them. Installing good locks on a lightweight door is inviting disaster.
Locks will only be effective if they are installed on strong sturdy doors and frames.
Shed Some Light on the Subject!
Motion detection floodlights are a great way to keep intruders out of the picture. Intruders want to gain access to your house quietly without being seen.
Motion detection floodlights will light up your property like a baseball diamond on a Friday night. It's the kind of attention an intruder doesn't want.
Secure motion light sensors in outside areas of the house where there are access points.
Go Wireless
DIY home security is user friendly. Wireless security systems won't break the bank account and are easy to install.
Wireless security systems will accept an add-on readily making it versatile and receptive to new innovations.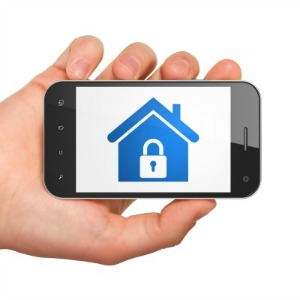 For instance, it's possible to connect instantly with your smartphone or tablet when your system is armed. You can then receive texts or emails warning you that the security of your house is being compromised.
Now, that's a feature of wireless security systems which will delight young techies everywhere.
DIY home security has something to offer everyone. You can't depend on anyone else to protect your family and keep them safe so; do it yourself!
Related Articles to DIY Home Security
DIY Home Security Systems - The Process of DIY

DIY Home Alarm - Setup Your Own

DIY Security Systems - An Ideal Security Solution

DIY Alarm Systems - Here's the Buzz
DIY Home Security Alarms - Helping You Keep Your Home Safe

Home Security DIY - Plan Your System
DIY Home Alarm Systems - No More Excuses
Self Install Home Security - You Can Do this
The Logic of A DIY Alarm System
Home Alarm Kits - Pricing Out Quality
DIY Security System - Installing Your Own
Do It Yourself Home Alarm Installation
Apartment Security Systems That Move with You