A Wireless Home Security System, Why Not?
It is highly important to safeguard your precious family members and things in your home.
Installing a wireless home security system is one the best ways to make your home the safest place.
As the number of crimes is increasing day by day in cities, suburbs and even rural areas, a home security system is becoming crucial to secure your valuables.
You can select a reliable wireless home security system manufactured by a reputed company to enjoy ultimate peace of mind. The wireless system is very easy to install and use, when compared to the traditional home security system. The drawback has always been the distance the wireless connection could make. But as technology keeps improving, so do these wireless products.
 Wireless Visitors Annunciator is the most popular of the wireless products that utilizes the latest wireless technology in the form of high RF transmission range. This product monitors your property 24 hours a day. Its versatile nature helps you to enjoy a lot of benefits. It is the best possible way to monitor perimeter awareness with a wireless remote control.
Wireless Camera with Your Security System?
Wireless home security camera is yet another excellent way to protect your beloved ones and precious possessions. There are lots of benefits in using a wireless camera at home. One of the most important advantages is that it can be installed anywhere you like. Wireless cameras, as the name itself implies, do not require cable and they need only signal range. You can install them either indoor or outdoor and can even set them up with the home computer network.
A wireless outdoor or indoor color camera with night vision is an innovative product, which occupies a prevalent position in wireless home security system nowadays. It has more powerful wall penetration capacity and so it is an ideal choice for monitoring your home. This product offers superior quality transmitting and receiving picture and sound. It sends wireless video to your television or recorder directly. The most inspiring feature of this product is its night vision up to 45 feet.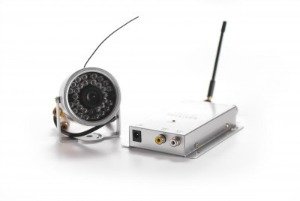 Wireless color camera with a DVR receiver is the most advanced product in wireless home security system. It is an all in one system, which comes in reasonable price ranges. It is very simple to install it and its portable nature lets you place it anywhere you like. The Digital Video Recorder (DVR) receiver in this camera does more jobs than an average receiver. DVR is useful in recording and retrieving video streams. Wireless color camera is bundled with exciting features like easy operation, motion detector and video storage on an SD card. The SD card can record up to 6 hours, although you may have to purchase it separately.
Stay Hassle Free with your Small Baby
A wireless home security system is available for ensuring the safety of your child. The wireless video baby monitors are a portable system, which allows you to monitor your child's activities with a handheld monitor. The wireless camera in this system let you play lullabies to comfort your child directly from that camera. Also, a wireless handheld color pinhole camera system can be hidden for undercover indoor use. The camera in this system is small, yet powerful and offers great resolution. The pinhole lens in this camera let you hide it anywhere.
The Wireless World
Across many different industries the wireless world is expanding. Cable television offers wireless connections now. Keyboards and printers have been wireless for some time. The advantage is very obvious; easier and cheaper installations.
 The big hold back on wireless security systems has and continues to be the distance between device and monitor. Everyone wants and expects for their security systems to be 100 percent reliable. That is still a tough order for a wireless system to fulfill. However, improvements continue towards that end every day. 
Related Articles To Wireless Home Security System
Wireless Home Security Cameras
Wireless Video Security Systems
Wireless Home Alarm Systems
                                                                                                               
Wireless Barking Dog Alarm
Considering A Wireless House Alarm? Read Here First
---