Home Security Kit - Get One For the Protection
A home security kit will most likely include everything you require to safeguard your home and your family members from crime, gas poison and fire accidents.
 As there are numerous products available in the market, each claiming to be the best in providing home security, it is important to scrutinize the products that with them.
Everyone's situation is different and no kit can be the best choice for every home.
Wireless Kits vs. Wired Kits
You will learn that a home security kit will come from one of two groups, the wireless type and the wired type. And nowadays the wireless kit is going to be the best choice for most people.
It wasn't always that way. It wasn't that long ago that wired devices were the only real choice.
But over the last couple of years wireless security devices have become the hot item. Previous  wireless products had a very limited range. But new advancements have now produced reliable devices with ranges up to 600 feet.
Wireless security products have a higher initial price, but the advantages are big.
First, there is no running wires thru the walls like with a wired system. So installation is much cheaper and lots faster.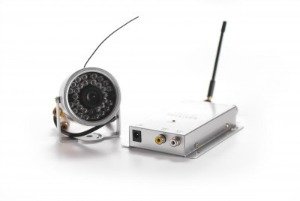 Second, the devices are easily moved around. Do you want to put a wireless camera at a different window? No problem. Pick it up and move it. You can't do it that easy with a wired system.Even moving to a new house means just picking up and going.
Third, the wireless system runs on batteries. What's big about this is if the power goes out (or is cut by a criminal) your security is still working.
And these new wireless devices are as reliable and as well made as the standard old wired ones. A high decibel siren in a wireless kit is just a loud as its counterpart in a wired kit.
They are more convenient and you can control them while sitting comfortably in your sofa. You can connect them to your PC and monitor the movements in your home when you go to work or on vacation.
A Wireless Home Security Deluxe Kit
The first home security kit worth checking out is the Skylink SC-100 wireless home security deluxe kit, which can be installed effortlessly. This is an ideal choice for small to medium size homes.
It uses the groundbreaking Rolling Code technology, which helps to reduce the problem of false alarm and provides maximum security. The main advantage of this kit is that it can be customized to suit your specific needs. It includes an armed or disarmed feature by using a keychain transmitter.
GE Smart Home Wireless Home Security Kit
GE Smart home wireless home security kit is a cost-effective product, which comes with NX8 control panel, Sentrol PI-6000 motion sensor, 15W speaker, transformer and battery.
It is packed with appealing features like 24 keypads, 99 four digit or 66 six digit user codes and 185 event log. It can be expanded to 48 fully programmable zones. GE Smart home wireless home security kit encompasses door design LED keypad, which features programmable output and easy to read displays.
The smoke detector in this kit detects smoke and alerts you with an alarm. Wireless Panic pendant is a boom for senior family members. It lets them activate the 24-hour emergency alarm from anywhere in the home or in the garden.
This home security kit is simple to install and use. It monitors your home and ensures complete protection.
The camera in this kit captures clear images even in total darkness up to 25 feet. Camera kit is also available for indoor use.
This kit may be the best security solution to your home and you can install it anywhere you wish. You will find advanced features packed in this kit, which include customizable recording options and warning alarms.
The Digital Video Receiver helps to capture high quality digital video and you can simply connect this DVR to your internet connected router and can install with the existing software. You can therefore monitor any minor movements, when you are out of your home.
There are other high quality kits on the market. We feel the two mentioned above are the best to start researching and if neither of them suit your needs, just keep shopping around.
Articles related to Home Security Store
Home Security Equipment - What's Really Needed?

Home Security Devices - Choosing the Right One for You

Residential Security Doors - What You Need To Know 
Home Security Decals - An Inexpensive Option
Affordable Home Security Systems