Advantages of digital explorer alarm video server
by Karl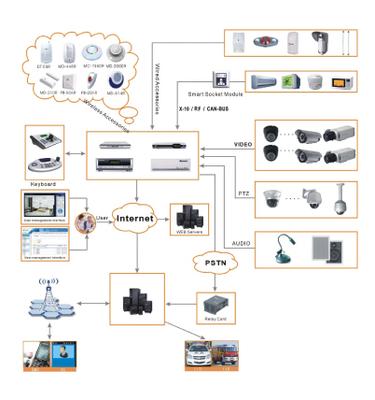 Application of Digital Explore Alarm Video Server
The digital explorer alarm video server is the updated alarm control panel with multiple channels network controlling and programming including TCP/IP, DHCP, DDNS, PPPoE protocol. It supports IE browsing of multiple users and 3G mobile monitoring. Fluent large data transmission is enabled through powerful network.
Advanced technology of the panel:
1. CPU+DSP H.264 main profile compression way for low code stream and high definition video. With Linux real time operation system to enable it to support software expansion, powerful and stable network transmission. It can be operated by mouse, keypad or remotes etc. It supports motion detection, OSD, Mosaics, real time listen-in, watch dog etc. functions. Can use dual-stream technology for Insufficient broadband network monitoring. It is with self dormancy technology for non-working hard disks and screen.
2. CORTEX-M3 Wired /Wireless /Bus all are compatible Alarm signals dealing. CORTEX-M3 32 bit CUP+Linux real time operation alarm dealing system enable it to deal 5 wired/wireless or bus lines alarm signals simultaneously. And it can communicate via PSTN+GSM+3G+TCP/IP to report alarm events simultaneously. It supports remote programming and voice guide operation etc.
3. It can be programmed, armed/disarmed etc. by 4D joystick keypad. You can use IE explore to set alarm site, defense zone type etc. on electronic map.
4. With PSTN+TCP/IP, GSM+3G network channels and updated communication technology, video technology, computer technology, you can build large network service platform. It enables remote monitoring, video browsing, alarm status query, PTZ controlling and vidoe meeting etc.

Join in and write your own page! It's easy to do. How? Simply click here to return to home security plans.