Which is best self install security system?
by Mahesh
(Nagpur)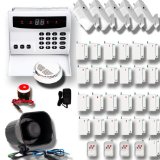 Typical Home Security System
The Security System which provides you and your family the piece of mind is the best system.

It should be

1) most affordable ( less than $ 300),
2) technologically advanced ( preferably wireless )
3) sophisticated,
4) easy to use and install with simple to follow instruction guide.
5) with wireless features
6) have the most popular security features in a convenient and economical package
7) with all the bells & whistles you need to effectively protect your home from burglars.
8) with 2 Alarm horns ( 1 Outdoor & 1 Indoor . Outdoor horn will for your neighbors to hear and indoor one is for you ).
9) Easy programming
10)Battery low indicator for individual wireless sensor on main control panel
11) With Phone call alert from the Security system
Join in and write your own page! It's easy to do. How? Simply click here to return to Self Install Home Security.